On 29 november 2011 the first two volumes of a new book series have been presented:  'Ethics of Care'.
The series, edited by Carlo Leget en Annelies van Heijst from Tilburg in collaboration with Chris Gastmans from Leuven, is meant to be an international forum for publications that are written from an ethics of care perspective.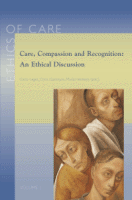 'Care, Compassion and Recognition: an Ethical Discussion', is the fruit of an expert seminar that was held in 2007 in Tilburg with contributions from a. o. Joan Tronto, Margaret Urban Walker, Eva Feder Kittay, Christa Schnabl en Marian Verkerk.
The second volume, 'Professional Loving Care', is based on a succesful publication of  Annelies van Heijst, 'Menslievende zorg' (2005). The original monograph was revised and translated  in order to be accessible to an international audience.
All books can be ordered directly online with Peeters Publishers in Leuven.